When was the last time you remodeled your home? Changing your roof might not be the first thing that comes into mind when thinking of 'Summer renovations' or making improvements in your business. But, it truly should because the roof of your home and business is not only what protects it from almost everything, but it is one of the biggest eye-catchers.
Roofs are not meant to be hidden or blurred in the background anymore. Roofs are trending to go with the style of your home and the times. To give you some ideas, here are the top 2021 roofing trends of the moments that our clients are loving
1. Metal roofing:
Maybe it's because of the extensive range of benefits they bring to South Florida homes, but metal roofing is genuinely bringing a comeback. Metal roofing continues its 2021 popularity because of its amazing aesthetic look, durability and modern design. It is a perfect way to protect your home and have the coolest roof in the block.
Metal roofs are made of aluminum, steel, or copper and come in different colors, shapes, or textures that make them more personalized. This type of roofing is extra popular in Florida because of its ability to repel water and prevent water leaks.
2. Contrasting colors
Your roof is meant to pop and bring attention to the design of your house and blur the exterior. In 2021 we've seen that homeowners are starting to use color to their advantage and making a statement with it. The trend is to contrast the color of your roof with that of your home, so if your home is painted a dark color then add a vibrant roofing and vice versa. This is why we provide a variety of tones and styles all in stock for our clients to choose from.
3. Old school
The basics never go old; if you are the type to stick to the classics, then you are in luck because they have also made a comeback this 2021. At the moment some popular basic shades for roofing are brown and red. An all time favorite for our clients is the dark bronze, it provides your home with an elegant look and makes the exterior of your home pop out, it is also harder to note if the roof is dirty, which is a plus! Another big one in the red shade is terracotta, this roofing style is an upgrade from the classic clay. Bringing a more vibrant, modern look to your home while still sticking with the classic roofing tones.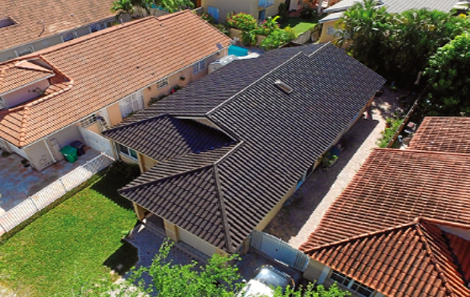 Your home is a reflection of yourself, make sure that reflection is not staying behind on the trends. Find the perfect roofing style and modernize your home. Next time you think it's time to remodel your home, think of the big roof over your head and the roofing trends that can help you! We've been renovating roofs in South Florida for years and are here to help you with your home improvements, all of our beautiful and trendy roofing tones are in stock and waiting for you.